x) Classical Loop & Loop by Jean Reist Stark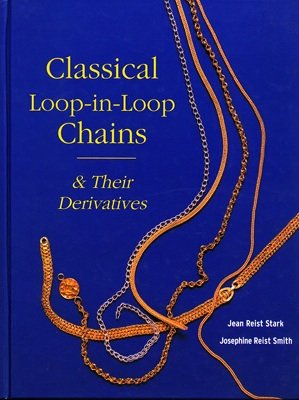 x) Classical Loop & Loop by Jean Reist Stark
The Clear step-by-step instructions will lead you through a total of 38 chain styles, all derived from the elegant loop-in-loop process. With 350 drawings and 45 photographs, "Classical Chains" is clearly the definitive work on this topic. Ms. Stark brings years of teaching and experimentation to this task. In straightforward language she discusses not only the making of chains, but clasps and terminals too. Hard cover with concealed wire binding.
Jean Reist Stark,
"I have used the ancestor of this handy little kiln since it was developed for
the Kulicke-Stark Academy of Jewelry Art many years ago and the latest Ultra-Lite
Beehive version still occupies a place on my bench where it is
convenient for making links of fine silver or 22k gold, granulating, firing
small enamels, annealing fine wire or heating pickle. I cannot imagine
having a studio without at least one. Many of the techniques that
we developed at the School could not have been so successfully embraced
and taught without the UltraLite Beehive Kiln. It provides flexibility and
control for many areas of endeavor which without it would be impossible."


Featured Products
g) Metal Clay firing inserts
$21.00