h) Red Brass Kuem-Boo Plates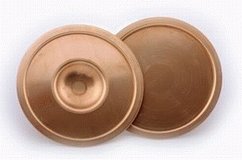 h) Red Brass Kuem-Boo Plates
Specially designed Red Brass Covers to be inserted on the Ultra-Lite Kiln for firing Keum-Boo and PMC Aura 22.
Keum-boo is an ancient Korean gilding technique used to apply thin sheets of gold to silver, to make silver-gilt. Traditionally, this technique is accomplished by first depleting the surface of sterling silver to bring up a thin layer of fine silver. Then 24 carat gold foil is applied with heat and pressure - mechanical gilding - to produce a permanent diffusion bond.
Pure precious metals such as gold and silver have a very similar atomic structure and therefore have a good potential for bonding. Heating these metals to a temperature between 500-700°F increases the movement of the atoms. When pressure is added, this causes an electron exchange at the surface between the two metals, creating a permanent diffusion bond. This diffusion bond occurs far below the soldering temperature for either metal.
Featured Products
g) Metal Clay firing inserts
$21.00